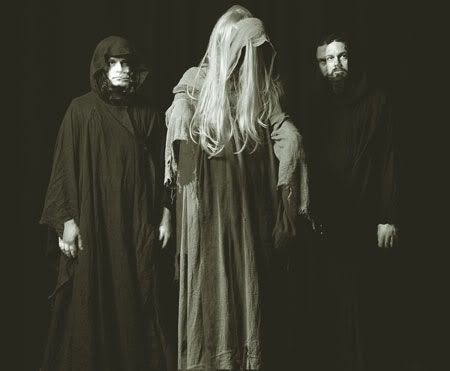 So, you've been listening to Black Sabbath for as long as you can remember.
Pentagram
and
Bedemon
are old news to you. Lately you've been really into
Electric Wizard
, you dabble in bands like
Pelican
, and you even get into ambient soundscapes like
Explosions in the Sky
. You probably would like
Sleep
,
Moss
, and pretty much any band whose name and logo connotes a dark stagnation. You may even peruse the
Southern Lord
website and sample their selection of dark black/death/doom metal.
So when your friend tells you, "Man, you would love Sunn 0)))!" you go ahead and give it a shot. Their image is certainly crucial (see picture above), but what is this "
music
" you're hearing? You can't understand why people think this is so amazing. All you hear are some dudes getting ready to play a song, but never getting there. If you don't drugs, you imagine that anyone enjoying this music MUST be. And if you do drugs, you imagine the people listening to Sunn 0)) must be doing better drugs than you. In the end, you probably think to yourself, "I could do this shit!" Well, unknowingly you've hit on the secret to really appreciating drone...
DO IT FOR YOURSELF!
Some of the most powerful moments I've ever had playing music came when I sat in front of my amp and just droned out. Just listening to Sunn 0))) isn't enough. You can experience the full effect if you're fortunate enough to catch one of their live shows, but that can be quite difficult if you don't live near a relatively large city. So, here are my instructions for creating your own drone music.
Now, you may not think you can get a good drone out of a combo amp with a 10" cone, but you would be very surprised. Here's what you need to do. Turn your pregain up all the way, turn your bass to 10, turn your highs to 0, and use your mids for tone control, but try not to let them get much higher than 5 or 6. If you have a Presence knob, turn it all the way down. As for any other weird tone control, basically turn them to whatever is the bass heavy extreme. Select the neck pickup on your guitar, and turn down the tone knob if you have one. Now for the most important part, tune your guitar to
open C
(feel free to experiment with the three higher strings), and if you're feeling adventurous, try to get your guitar down a minor third to open A. Plant yourself directly in front of your amp and turn it up to a decently loud volume. Feel free to wear ear protection and turn it up all the way.
Now you're ready to drone. Turn up the volume on your guitar and lightly strum an open C chord. Let it ring. Let it feed back. Let it get in your head, in your body. Close your eyes and strum again when you feel the need. Experiment with consonances and dissonances and the feedback they create. You'll start to notice beats occurring within the drone, a slower beat for a consonance, and a faster beat for a dissonance. Start timing your strums with these beats. After about 5 or 10 minutes you'll be lost.
I have literally sat in front of my amp for hours exploring the bottomless drone. Anyone familiar with yoga, Tai Chi, or any kind of meditation will understand the feelings that overcome their body.
If you have a half stack to experiment with, it will be even better. If you have some way to run your guitar signal to two amps, I HIGHLY recommend it. You can change the tones on each amp and create sounds that will blow your mind. Once I ran my guitar through my Crate half stack as well as my bass stack via my
Digitech Whammy pedal
. I put my bass amp slightly out of tune with my guitar amp and sat right between the two. It was kind of a stereo chorus effect that create some amazing frequency interactions. If you have the know-how and the equipment, toying with the phase of the two amps would be pretty amazing too.
So, that's pretty much all you need to know. If you still don't "enjoy" listening to Sunn 0))), that's fine, but now you probably understand their objectives a little better. One doesn't put on a Sunn 0))) record at the beach driving in a jeep with the top down and the doors off. Listen to Sunn 0))) while going to sleep, reading HP Lovecraft, getting an MRI, driving down a dark country road in the middle of the night, driving through a tonado, performing a Walpurgisnacht ritual, etc... Their music elicits specific emotions and physical states. If you can get in tune with them you will have some of the most profound musical experiences possible with current technology.